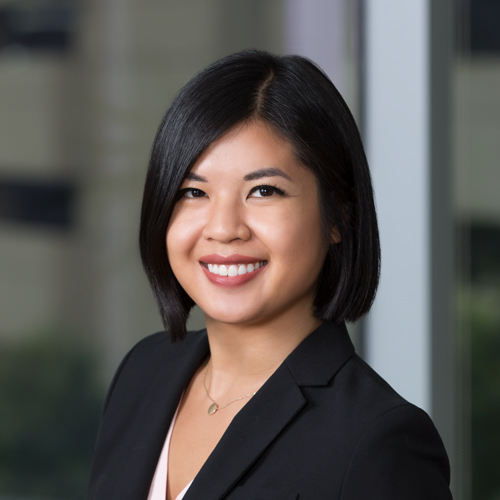 Associate
Jasmine is an attorney in the firm's Business Transactions practice group. Ms. Vu represents small and large businesses, investment entities, and startup entrepreneurs in a broad range of general corporate and finance matters, bank lending transactions, real estate, and mergers and acquisitions. Ms. Vu previously practiced in Houston as part of the corporate section of a large Texas firm and in Denver, where she primarily focused on commercial real estate financing, before joining Cantey Hanger.
Education
University of Houston Law Center, J.D.
University of Texas, B.A.
Experience
Assisted in the representation of a Texas-based logistics company in a sale of its equity and assets in excess of $60 million
Assisted in the representation of a Colorado state bank in multiple commercial real estate-secured transactions amounting to over $100 million
Assisted in the representation of a Texas-based industrial gasket and couplings manufacturer and supplier in the sale of its assets in excess of $56 million
Assisted in the representation of a Texas-based stainless pipes and fittings company in the purchase of assets from a North Carolina stainless pipes and fittings company
Assisted in the representation of a large asset management firm in a merger in excess of $60 million
Assisted in the representation of a family-owned barbecue business in the sale of its assets
Coordinated the formation and organization of a restaurant business and represented it in its purchase of assets from sellers
Assisted in the representation of a chain of car dealerships in its reorganization and recapitalization in excess of $150 million
Assisted in the representation of a chain of convenience stores in an approximately $65 million reorganization
Assisted in the representation of a private equity fund's purchase of a medical physics company
Bar Admissions and Certifications
State Bar of Texas
State Bar of Colorado
817-877-2843
817-877-2807
jvu@canteyhanger.com
600 West 6th Street. Suite 300
Fort Worth, Texas 76102