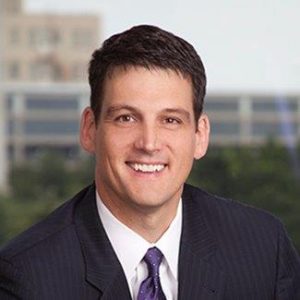 FORT WORTH, TX – Partner Scott Fredricks has been selected Chair of the Litigation Section at Cantey Hanger LLP. He succeeds Partner Jordan Parker, who had led the firm's litigation team for six years and is now leading the firm's recruitment and business expansion efforts. Cantey Hanger's Litigation Section consists of more than 40 attorneys and tries cases throughout the state and around the country.
Fredricks has been with Cantey Hanger since 1999 and represents clients in complex commercial cases in state and federal court, including antitrust, securities and intellectual property. He also routinely counsels civic and religious institutions on appropriate responses to allegations of sexual misconduct and conducts independent investigations of the same.
This past fall, Scott was appointed by the Texas Supreme Court to a three-year term on the Professional Ethics Committee, which is tasked with writing advisory opinions on ethical questions submitted by members of the Texas Bar.
"Scott has been an integral member of our complex commercial litigation practice for 20 years," said Brian Newby, the firm's Managing Partner.  "He is one of the most creative, yet zealous trial lawyers I know, while always upholding the highest professional and ethical standards."
Fredricks earned a Bachelor's degree in business administration from Biola University in Los Angeles and a Master's degree in Social Ethics from Emory University in Atlanta. In 1999, he was awarded his juris doctor from The University of Texas School of Law, where he served as Editor in Chief of the Texas Review of Law & Politics and interned with Texas Supreme Court Justice Raul Gonzalez.
Scott Fredricks and his wife have lived in Fort Worth for 20 years and have four boys — three at The University of Texas at Austin and one a freshman in high school. He has served on the board of Covenant Classical School the last 10 years and has helped coach its high school mock trial team to seven straight regional championships and five times into the Top 10 teams in the state.  He and his family attend Fort Worth Presbyterian Church (PCA).  He was also a member of the 2014-2015 class of Leadership Fort Worth and has been recognized as a Top Attorney by Fort Worth Inc. magazine.