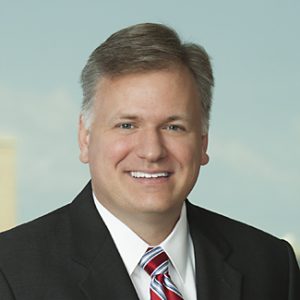 FORT WORTH, TX. – Doug Clayton, a Partner at Cantey Hanger LLP law firm, has been elected to serve as Chairman of the Board of Directors of TechFW. He follows Maxwell A. Lea, III, a Managing Director with DFB Pharmaceuticals, whose term expired at the end of 2019.
TechFW is a non-profit entrepreneur support organization that helps entrepreneurs commercialize innovative technologies and works to strengthen the entrepreneurial ecosystem in north Texas.
Clayton has served on the TechFW board since 2016. His relationship with the entrepreneur support organization began – and continues today – as a volunteer advisor assisting TechFW clients in matters relating to their business structure, contracts and transactions.
"Doug Clayton epitomizes TechFW's core value of giving before you get in everything he does for our organization, clients and team members," said Hayden Blackburn, TechFW Executive Director. "His understanding of our vision and leadership will enable us to continue to build on past successes and allow us to grow in new and exciting ways to better serve our mission and the entrepreneurial ecosystem."
Clayton is Chairman of Cantey Hanger's Business Transactions Practice Group. His practice focuses on mergers and acquisitions, corporate finance, securities offerings, SEC compliance and other business transactions.
"It is a real honor to help support Hayden and his team in leading an amazing organization like TechFW," Clayton said. "We know that a healthy entrepreneurship culture is critical to the growth and success of our city and our region, and TechFW has been and will continue to be a positive catalyst for developing that culture."
TechFW is a non-profit organization that helps entrepreneurs launch and grow emerging technology companies that have a high potential for success. It mentors, coaches and relentlessly pushes them toward success. TechFW has offices at the James E. Guinn Complex in Fort Worth and is supported by the UNT Health Science Center, the University of Texas at Arlington, and the City of Fort Worth. For more information, contact contact Hayden Blackburn or Sandy El-Rayes at (817) 984-9841.