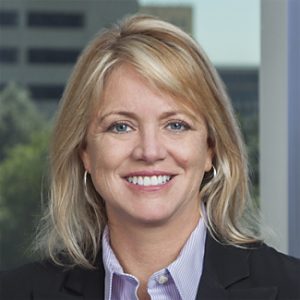 TCU Neeley students learn from experts in their fields, including real-world insights, practical applications and best practices in areas such as sales, technology, health care, law and entertainment/media. The endowed TCU Neeley School EIR program began in fall 2021.
Julie is vice chairman of the firm's business and tax section. Her practice focuses on business and tax planning for clients, ranging from closely held family organizations to Fortune 100 companies. She specializes in mergers and acquisitions, and also represents health care organizations with contractual and state and federal regulatory issues, as well as advises clients on intellectual property laws.
As the David and Marie Louis Kinder Executive-in-Residence, Bergkamp works with TCU student-athletes to answer questions about general business legal issues surrounding athletics, including the NIL (Name Image and Likeness) regulations as they evolve for NCAA participants. She also will be teaching an entrepreneurial law course at the undergraduate level.
"I really enjoy working with students and helping those who are embarking on their professional journeys. I want to help make business law concepts understandable and practical," she said.
Julie earned a Bachelor of Arts from Texas Tech University, and her JD from Syracuse University College of Law. Originally from Fort Worth, she lived in Paris, New York and Chicago before returning home and joining Cantey Hanger in 2003.